Checkmate A1500 Plus A1200/A600 Basic Case (White)
A high quality case for the A1200 or A600.
This is the Basic case for Amiga A1200 and A600.
The plastic parts are UV resistant materials and as such will not yellow with age.
The physical dimensions of the case are Width 431mm x Height 104mm x Depth 385mm.
The keyboard riser adds 40mm to the height. A screw pack is included with all fixings.
Please note that there's NO case or cabling for the keyboard included.
There's a solution in the works which allows to change the original the Amiga 1200 keyboard into an external keyboard, but it's not yet available.
This is not the case for the Amiga600 keyboard though. At the moment, it is suggested to use a USB keyboard with an adapter that allows to connect a USB keyboard to the Amiga 600/1200.
In the basic setup, you use the original power supply and connect it to the back of the case.
It is also possible to get an optional power supply board which allows to use a standard ATX Power supply.


Included in this pack is: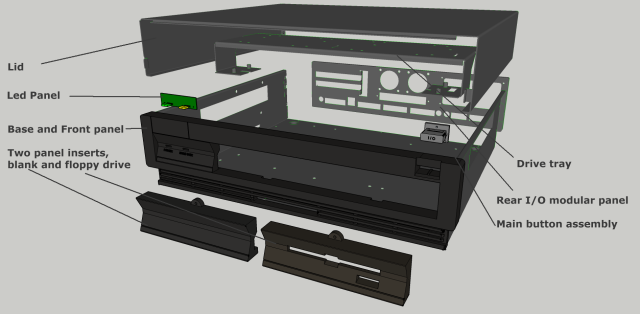 1 x Lid
1 x Drive tray
1 x Base tray
1 x Rear appropriate panel
1 x Led panel and lead
1 x Power button and lead
1 x Front panel
2 x Insert drive panels (See image above)
1 x Front lower cover/utitility plate
1 x Ring bound manual
1 x Colour packaging
Here is a nice video showing what you can do with your A1200 in this case:
System

Amiga 600/1200
Checkmate A1500 Plus

Part type

Case