In Alwa's Awakening, you play as Zoe, a heroine sent from another world to bring peace to the land of Alwa. 
Equipped only with a magic staff, she awakens in a distant land and must set out to help the people. 

Traverse dangerous dungeons, meet interesting and fun characters, and explore the world in this 8-bit adventure game. 

Alwa's Awakening is a brand new game for your NES. Explore a vast world similar to classics like Faxanadu or Metroid. You won't have a flashing arrow telling you exactly where to go and what to do next. 

Instead, you are free to find your own way and by using using your magic staff, you can progress through the over-400 unique challenging rooms in the game.

The game comes in a beautiful packaging with full color manual and some goodies.
Features and Specs:

• Frosted 8-Bit Cartridge
• Full colored instruction manual
• Cartridge Packaging with Exclusive Slipcover
• Behind the Game Developer Interview
• Certificate of Authenticity
• Animated Lenticular Card
• Mini level poster
• Full colored instruction manual
• Battery backed-up save

As it was the case to the previous releases by Retro-Bit, this is a one-time preorder only! While there will be additional copies produced, these won't be too many, so if you miss the preorder period, it could turn out hard to get hold of the game.
The preorder is possible until October 17th, the game is planned to be released early 2022 (however, due to the global parts shortage, there might be delays).

The game runs in any NES console, regardless the region. It should also work with most clone consoles, but we can't give any guarantee on that.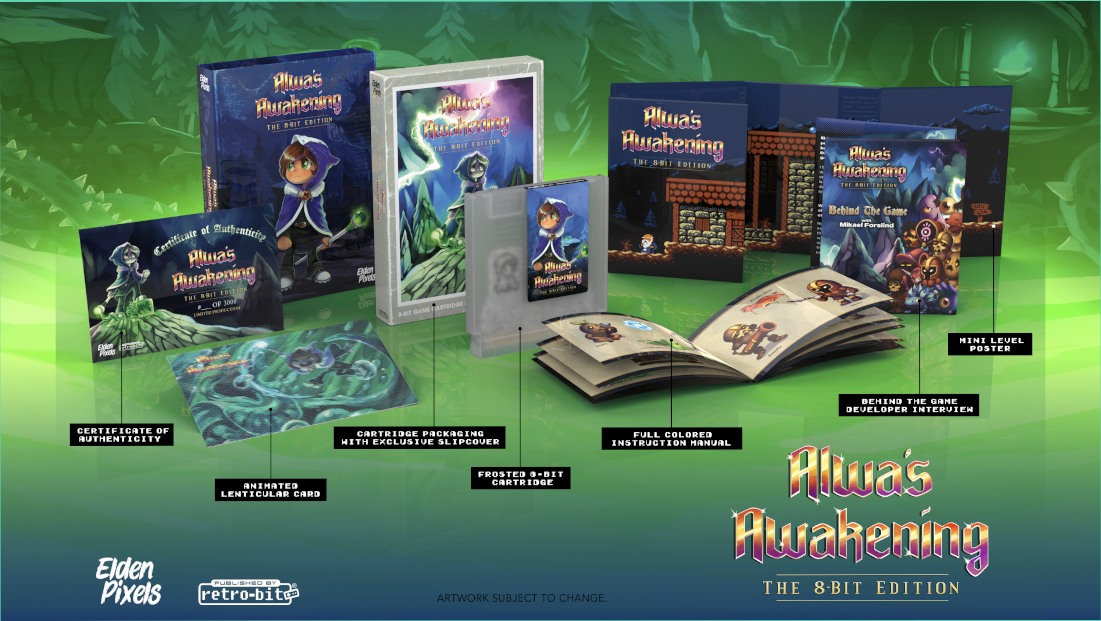 Technical Details
System

NES

Game Format

Cartridge

Game Type

Metroidvania
Platformer

for brand

Nintendo