Valis III - Collectors Edition (MegaDrive / Genesis) (Preorder)
The third game in the Valis series.
This is a preorder for RetroBit's next physical cartrdige release - the third game of the Valis series (you can also get all three in one collection)
The preorder period ends November 27th, delivery is planned to happen early 2023 (though it's hard to give good estimation due to the global parts shortage - it'll ship as soon as it's done :)).
Much time has passed since Yuko saved the dreamworld of Vecanti.  Her own twin sister now sits on the throne as Queen of Valia and the Dark World falls into civil war.  Now, one of the most powerful lords of the Dark World has proclaimed himself as King Glames and seeks to conquer worlds to prevent the destruction of his own.  Still, there are those among the Dark World who fight against him such as Cham.
Yuko will need Cham to rescue Valna and then team up to defeat King Glames and his Sword of Leethus, which is powerful enough to take on the Sword of Valis.  Use each character's abilities and magic to their fullest through 9 treacherous stages to strike at the heart of the Dark World once again!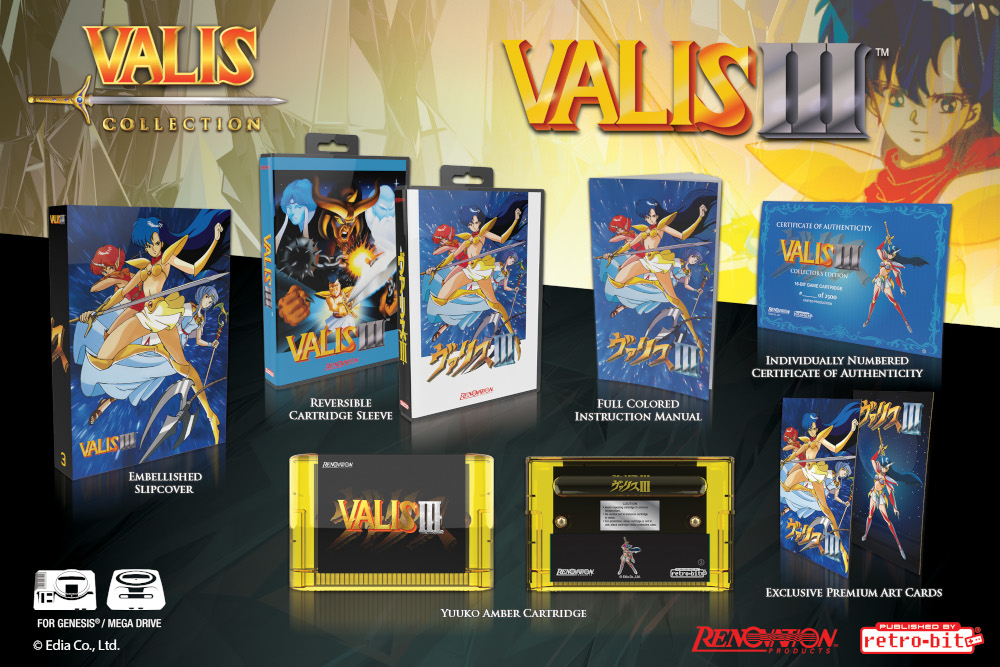 * Yuko Amber Cartridge for SEGA Genesis®/Mega Drive
* Full-colored instruction manual redone for this release
* Restored the Music Test Mode previously only in the JP version
* Reversible cartridge inlay sleeve featuring JP and NA artwork
* Exclusive art card featuring some of the cast
* Individually numbered certificate of authenticity
Questions and Answers
Q) How many will be made? The certificate has a number on it - is that the limited total?
A) The number on the certificate sample image is just a placeholder. The total number will depend on the amount pre-ordered during the ordering window.
Q) Will there be another reprint?
A) Like all of the titles RetroBit offers, this will be an open pre-order window for a limited time. There are no plans to reissue this collection again.
Q) Will other Valis titles get a release as well?
A) While RetroBit are excited about further considerations of other Valis titles, they have not announced any plans at this time.
Q) Will this be available for download or on other consoles?
A) This is a physical re-release of the SEGA Genesis®/Mega Drive cartridges. There are currently no plans to release it in any other form.
Q) What consoles can play this cartridge?
A) This game is compatible with North American SEGA Genesis® consoles, PAL Mega Drive consoles, and most 3rd party consoles that are able to run Genesis/Mega Drive cartridges. Due to the shape of the cartridge, it will not fit into a JP Mega Drive console.
Q) What voltage is used on the chip?
A) It uses a 5-volt chip to retain your console's performance and will not damage your console.
Q) Are the insert points beveled?
A) Yes, the insert points are beveled and the edges are rounded to allow for proper insertion without damaging the pins in the cartridge slot.
Q) Is this game region-free?
A) Like RetroBits prior releases, this game is region-free so long as it is compatible with the console.
Q) Does this run at 50hz on PAL consoles?
A) The game is multi-regional and can run at 60Hz (NTSC for North America) or 50Hz (PAL Europe and Australia).
Gameplay
Q) What are the differences between the original releases and these?
A) All licensing has been updated on all three titles. Additionally, players can expect to see these changes:
a) Syd of Valis: Several portions of the game that still had Japanese text have been translated into English. This includes the Game Over, the End Game screen, and the Credits.

b) Valis III: The Music Test has been unlocked after previously only being available in the Japanese version. Players can hold A+B+C and press Start on the title screen to view it.
System

MegaDrive/Gen.

Game Format

Cartridge

Game Type

Platformer

for brand

Sega