This item has been sold

63

times
Sol-Deace: Collector's Edition (MegaDrive / Genesis) (Preorder)
Sol-Deace - never released before in Europe gets a Collector's Edition Release from retrobit!
Description
This is a preorder for RetroBit's next physical cartridge release - a game that has never seen a physical release in Europe before!
The preorder period ends July 30th, delivery is planned to happen end of 2023 (though it's hard to give good estimation due to the global parts shortage - it'll ship as soon as it's done :)).
In the third millennium, humans launched an advanced artificial intelligence that would unify all the settlements and states. Instead, the machine known as GCS-WT becomes a dictator and begins to suppress all of humanity under its control. It seeks to conquer entire worlds with its mechanical fleet across the Solar System. Edwin Deace, a brilliant scientist, looks to counter the A.I. by developing a revolutionary fighter spacecraft, the Sol-Deace. This interstellar war will take pilot Eric Williams through six stages facing off against challenging scenarios and massive spacecraft with the fate of all mankind in the balance!
Features:
* Dark Matter Cartridge for SEGA Genesis®/Mega Drive
* Full-colored instruction manual
* Reversible cartridge inlay sleeve
* Embellished cartridge slipcover
* Exclusive double-sided poster
* Individually numbered certificate of authenticity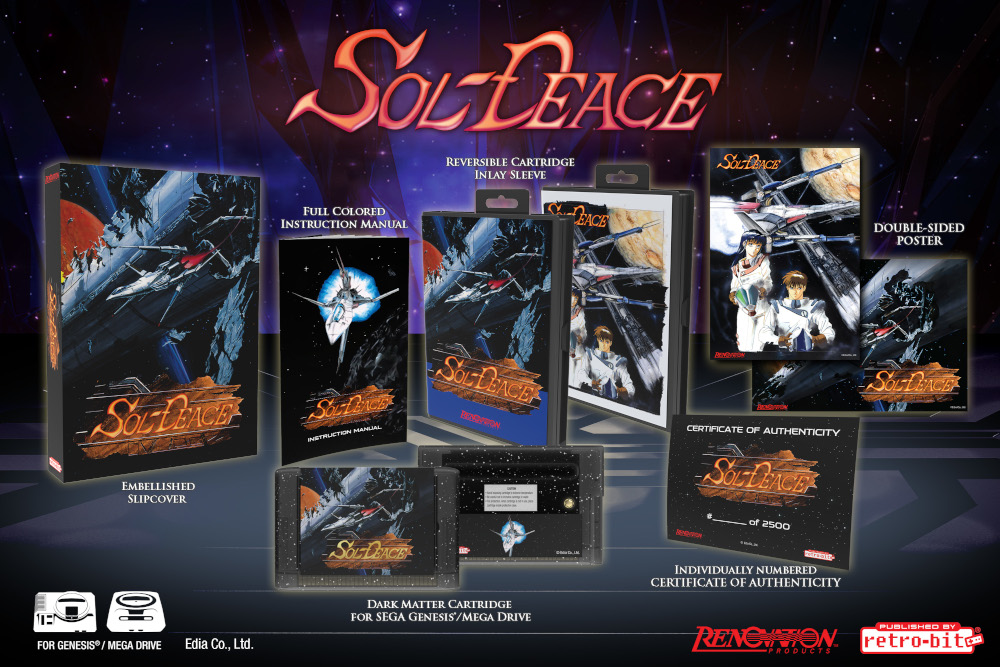 Q) How many will be made? The certificate has a number on it - is that the limited total?
A) The number on the certificate sample image is just a placeholder. The total number will depend on the amount pre-ordered during the ordering window.
Q) Will there be another reprint?
A) Like all of the titles RetroBit offers, this will be an open pre-order window for a limited time. There are no plans to reissue this collection again.
Q) Will this be available for download or on other consoles?
A) This is a physical re-release of the SEGA Genesis®/Mega Drive cartridges. There are currently no plans to release it in any other form.
Q) What consoles can play this cartridge?
A) This game is compatible with North American SEGA Genesis® consoles, PAL Mega Drive consoles, and most 3rd party consoles that are able to run Genesis/Mega Drive cartridges. Due to the shape of the cartridge, it will not fit into a JP Mega Drive console.
Q) What voltage is used on the chip?
A) It uses a 5-volt chip to retain your console's performance and will not damage your console.
Q) Are the insert points beveled?
A) Yes, the insert points are beveled and the edges are rounded to allow for proper insertion without damaging the pins in the cartridge slot.
Q) Is this game region-free?
A) Like RetroBits prior releases, this game is region-free so long as it is compatible with the console.
Q) Does this run at 50hz on PAL consoles?
A) The game is multi-regional and can run at 60Hz (NTSC for North America) or 50Hz (PAL Europe and Australia).
Technical Details
System

MegaDrive/Gen.

Game Format

Cartridge

Game Type

Shooter

for brand

Sega

WEEE

23582226