Bubble Bobble 4 Friends Collector's Edition Plushie Bundle (NSW)
The Collectors Edition of Bubble Bobble 4 Friends for your Switch
Description
Strictly Limited Games limited release, individually numbered. Limited to 47 copies worldwide.
Includes a SLG exclusive round acrylic glass print and plushie of Bub and Bob!
A fan favorite returns – welcome back, Bub and Bob!
It all started in 1986 with the original Bubble Bobble, which quickly became an arcade mega-hit thanks to its innovative gameplay and the addictive two player co-op mode. Not to forget its catchy melody that has already been etched in the minds of millions of gamers out there.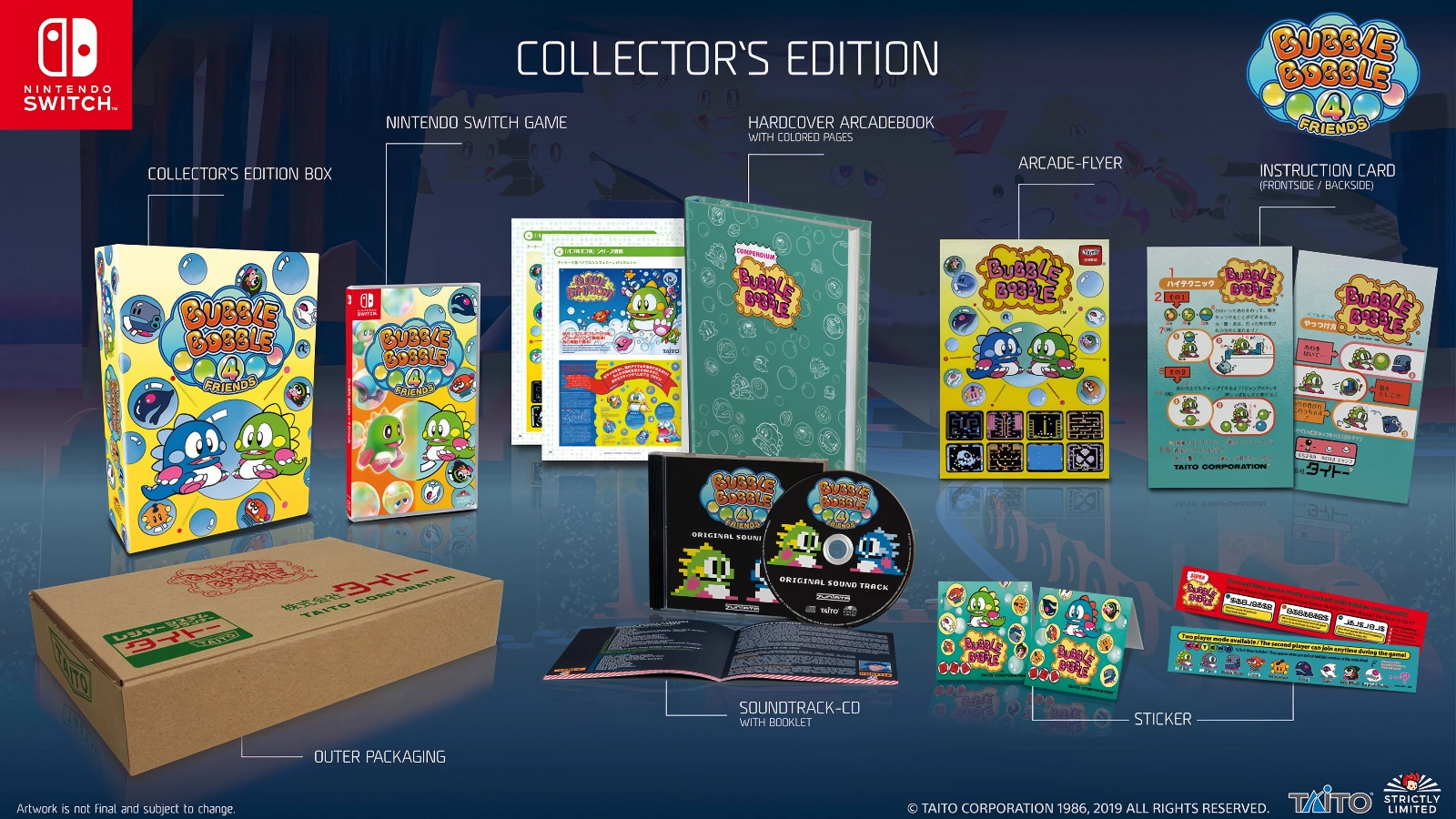 The Collector's Edition contains:
Bub & Bob Plushie with sound 22 * 21 * 21 cm/8,7 * 8,3 * 8,3in
Bubble Bobble 4 Friends Game (Nintendo Switch)
Hardcover CE Box with magnetic lock
Retro PCB Packaging
Original Soundtrack CD with booklet
Fully localized hardcover book
Arcade Flyer
Instruction Card
Stickers
Approximate size of the Collector's Edition box: 22cm x 16cm x 6,5cm (8,7 x 6,3 x 2,6 inches)
Please note:
This SLG version and cover of Bubble Bobble 4 Friends is exclusive. There is a regular retail release of the game later this year, by a different publisher. The Collector's Edition is Strictly Limited Games exclusive.
Technical Details
System

Nintendo Switch

Game Format

Cartridge

Game Type

Platformer

for brand

Nintendo