Bud Spencer & Terence Hill - Slaps And Beans 2 Special Edition (NSW)
A Beat'em Up featuring Bud Spencer and Terence Hill
Description
Bud Spencer & Terence Hill - Slaps And Beans 2 Special Edition, officially licensed Nintendo Switch game. Includes a colorful game manual and many additional collectibles.

Beat 'em up action with in-your-face punch lines!
The legendary duo is back! After the success of Slaps and Beans Bud Spencer and Terence Hill will once again embark on a very slap-filled adventure. Meet and beat iconic, fully voice-acted characters in the locations from the films while listening to the cheerful soundtrack composed by the original composers of the films, Oliver Onions.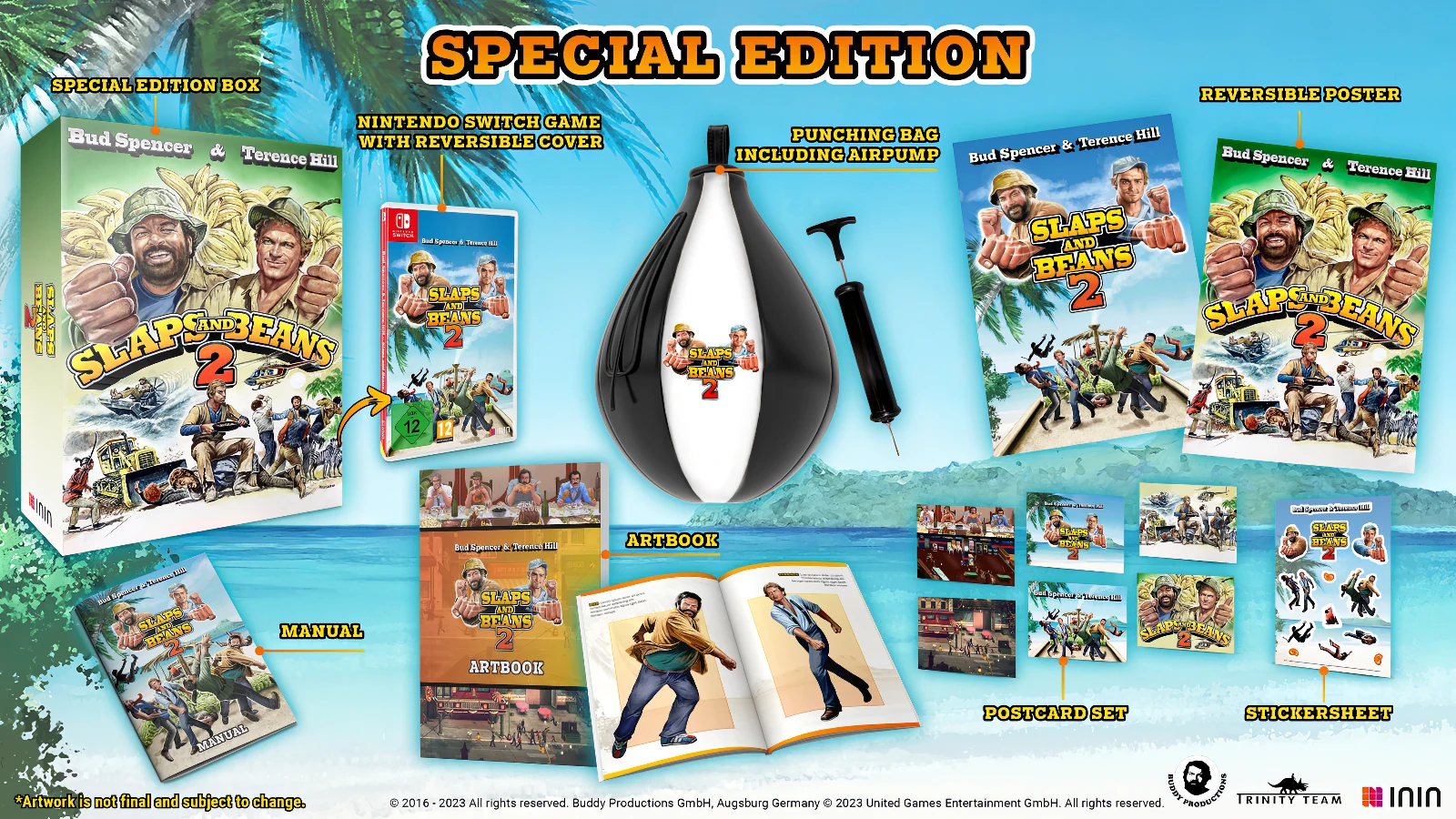 Special Edition Contents:
Special Edition Box (design by legendary Renato Casaro, creator of Bud Spencer movie posters)
Nintendo Switch Game (reversible cover art)
Manual
Punching Bag (incl. air pump)
Reversible Poster
Artbook
Post Card Set
Sticker Sheet
Game Description:
Shipwrecked in Africa, Bud and Terence rescue a village from thugs and try using a local banana barge to find their way back home. But of course, it wouldn't be a Bud and Terence adventure if everything went according to plan. You will find yourself on a trip around the globe, playing as an undercover cop in Miami, diving into an underground betting ring disguised as a gambler and fighting gangsters, ninjas, soldiers and more along the way. And somehow everything seems to be connected to bananas!
Thrashing Features:
ODDS AND EVENS: A brand-new, explosive & ludicrous story adventure with an enhanced combat system: Both heroes now have signature abilities and unique power ups.
ACE HIGH: Neither dumb, nor mute: The game now includes voice dubbing in English, Italian, German and Spanish. Enjoy the new music from Oliver Onions, the original movie composers, to harmonize with the sound of slapping.
DOUBLE TROUBLE: Team up with your buddy, to enjoy the story in 2-player couch co-op. Lots of competitive mini-games are included throughout the story, adding various fun gameplay mechanics.
WHO FINDS A FRIEND FINDS A TREASURE: The dedicated party game mode (mini-games only) for up to 4 players lets you compete and chase those high scores.
Technical Details
System

Nintendo Switch

Game Format

Cartridge

Game Type

Beat'em Up

for brand

Nintendo