This item has been sold

5

times
Mad Stalker: Full Metal Forth Collector's Edition (MegaDrive / Genesis)
An iconic Beat'-em up for your MegaDrive!
Description
Strictly Limited Games exclusive, limited to 400 copies worldwide.
The iconic Beat 'em Up for retro consoles!

The year is 2142 and a war has been waging in Artemis City. In the last moments of the war, a warship is discovered containing hundreds of mecha, called SlaveGears, which are seized by the military. Two of those mechas, Hound Dog and Rising Dog, are put into experimental use by the police. As Rising Dog goes rogue under the control of the evil warship Omega, which jams the military networks of Artemis City, Hound Dog is deployed to save the City and stop Rising Dog.

Take control of the SlaveGear mecha Hound Dog and battle through 6 stages against various enemies that lead to the final boss of each stage. The gamplay mechanics resemble a mix between a traditional Beat 'em Up and 2D fighting games, so the player has to think about their next move more thoroughly to advance.
Originally released for the X68000, Mad Stalker: Full Metal Forth is brought to your Genesis/Mega Drive retro console!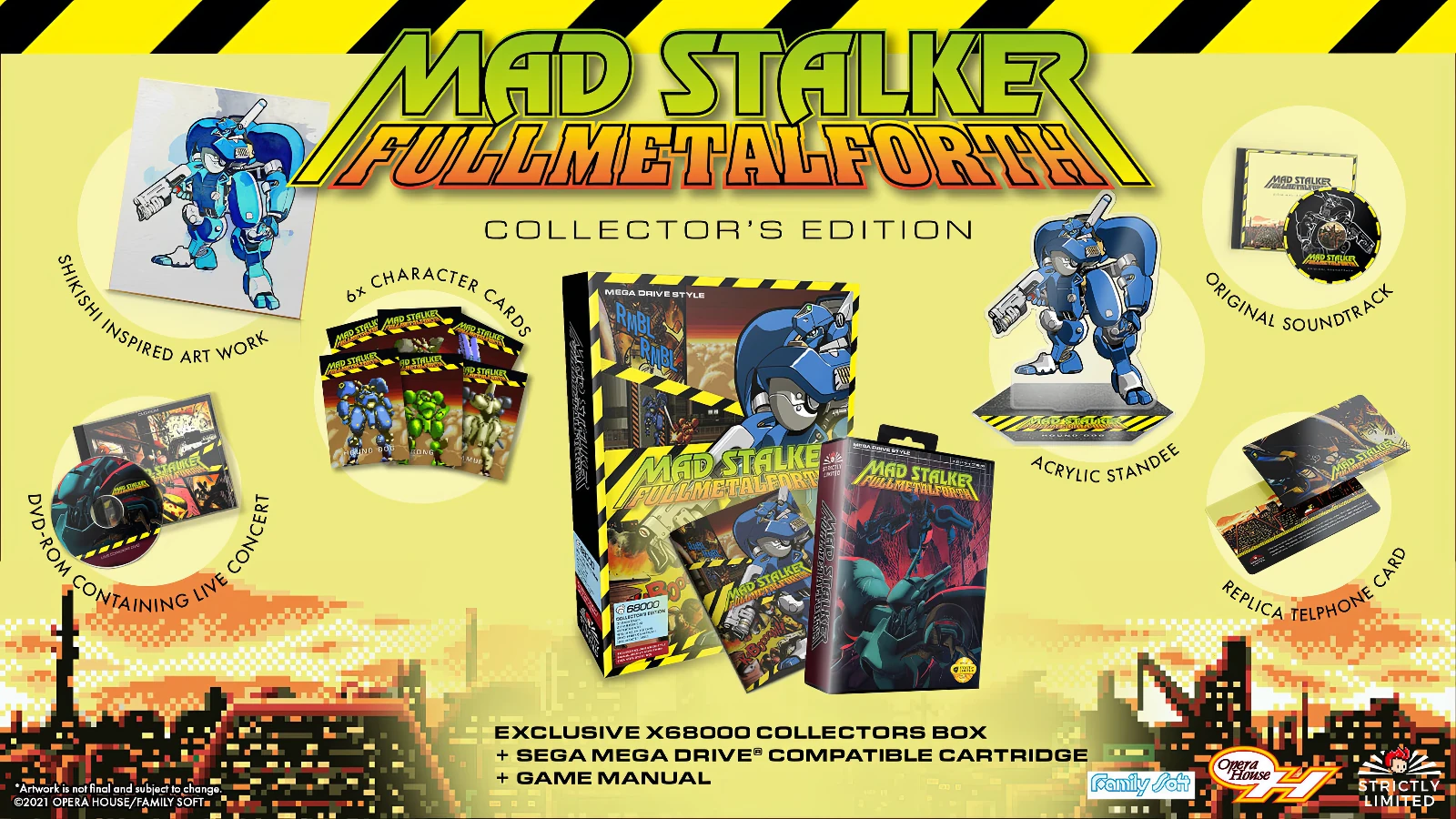 Features
6 Stages each with an individual boss fight at the end
Authentic retro experience for Genesis/Mega Drive
Fantastic blend of Beat 'em Up and fighting game mechanics
Control the bosses in 2-player Versus Mode
Collector's Edition contents
Exclusive X68000 Collectors Box
Sega Genesis / MegaDrive Compatible Cartridge
Shikishi Inspired Art Work
DVD-ROM Containing Live Concert Videos
6x Character Cards
Acrylic Standee
Replica Telephone Card
OST
Game Manual
Technical Details
System

MegaDrive/Gen.

Game Format

Cartridge

Game Type

Beat'em Up

for brand

Sega