Cannon Dancer - Osman Collector's Edition (NSW)
Cannon Dancer Collector's Edition for your Nintendo Switch
Description
Cannon Dancer - Osman, officially licensed Nintendo Switch game and includes a colorful game manual and many additional collectibles.
The Strictly Limited Games exclusive editions are limited to 2000 copies worldwide.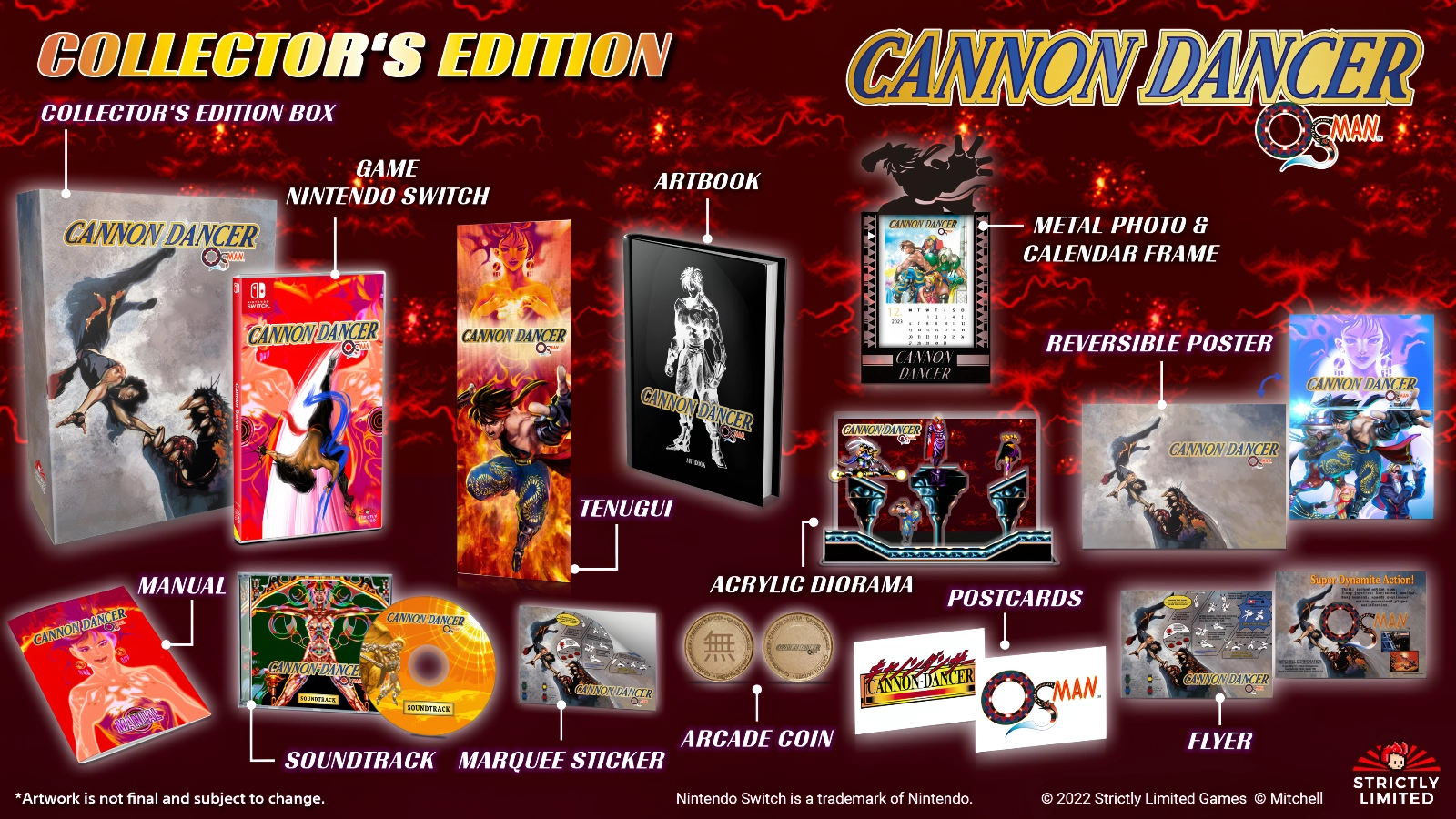 Featuring:
Game for Nintendo Switch
Cannon Dancer – Osman on cartridge in a game case with an exclusive and limited cover sheet by Yotsui-san.
Collector's Edition Box
Box to collect the game and all of the Special Limited Edition's items.
Details: Collector's Edition Box in premium quality with magnetic closure – approx. 15.3cm x 18.1cm x 4.5cm / 6in x 7.1in x 1.8in
Colorful Game Manual
Manual with game instructions as well as further insights and art.
Details: Manual, included in and size fitting to Nintendo Switch game case
Arcade Flyer A5
With the new Logo for the Japanese and Western markets
Details: DIN A5 –14.8cm x 21cm / 6.9in x 9.8"
Poster A2
Reversible poster featuring artwork of the collection.
Details: DIN A2 – 42.0cm × 59.4cm / 16.5in × 23.4in
Marquee Stickers
One sticker in the style of arcade marquees including controls, linking to the roots of the game in golden retro arcade age.
Details: 8cm x 5cm/ in 3x2
Material Book B5 containing as much assets as we could find, the extensive Material Book offers you an insight in the development process of the Cannon Dancer levels and more!
Details: DIN B5 –17.6cm x 25cm and 6.9 × 9.8" about 25 pages
Photo & Calendar Frame
Metal frame with Kirin and Cannon Dancer logo, which can be used as a photo or calendar frame.
Details: Approx. 17.6cm x 15cm / 6.9in × 6in
OST 1CD in Jewel Case
The awesome soundtrack of Cannon Dancer in its primary quality directly taken and mastered out of the game.
Details: x 20 tracks on 1 CD – duration approx.. 13:19:00
Diorama
Diorama of the Final Battle with the Teki.
Details: 10cm x 5cm/in 4x2
Tenugui
Shows an illustration from Kogure-sama himself of kirin fighting with Abdullah the Slaver.
Details: 30cm x 90cm/ in 12x36
Arcade Coin
A typical arcade coin made of metal. With the Kanji 無, which means nothing. Because Kirin has nothing to left to fight for. And that is the reason why he kills.
Details: 1,5cm x 1,5cm/ in 0,5
Embark on a quest for revenge with Kirin the Cannon Dancer!
To honour this unique game, Strictly Limited created this limited edition for console so we players finally get to enjoy this arcade classic.

List of Features:
Ported on modern consoles for the first time in history
Classic retro games mechanics, praised for their speed and agility
Rewind feature
Save and load feature
A total of six stages set in different exotic locations
Three different types of power-ups
Tons of bosses and enemies
Variety of wondrous retro scenarios and graphics with bright and even psychedelic colors, related to the final boss of each stage

Game Description:
Released as a coin-operated arcade game in 1996, Cannon Dancer has become an absolute legend in arcade history, with fans still looking for ways to play this beloved title once again. Now, the game is making a triumphant return.
Cannon Dancer (also known as Osman) is a classic action jump & run adventure with a Persian-Arabian flair. Control the Cannon Dancer Kirin, an acrobatic, highly skilled martial arts fighter, and fight your way through several stages while defeating enemy forces.
The world is controlled by a single federal government. Without warning, a new threat appears: Abdullah the Slaver, a female sorceress. Abdullah's goal is to control the world and to cause panic and terror. The fear of her leads to abandonment of all economic activities and a corrupt government. Help Kirin rescue society and defeat Abdullah the Slaver, but watch out for other betrayals.

Game Play:
Cannon Dancer (also known as Osman) is a classic action jump & run game where you need to collect different power-ups by destroying containers with the letter 'P'. In addition to the power-ups, Kirin has three special attacks per life which will destroy all on-screen enemies.

The different power-ups and their effects are:

Red power-ups:
This power-up increases the attack power by creating duplicates of Kirin who mimic his movements. The more power-ups are collected, the more duplicates Kirin can summon.

Green power-ups:
This power-up will restore one health point.

Yellow power-ups:
This power-up increases the maximum health of Kirin by one point.

Blue power-ups:
This power-up fully restores Kirin's health.


Why Cannon Dancer (Osman) is joining the SLG line-up:
The Legend; the Myth it is Cannon Dancer!
One of the rarest Games in Arcade history.
In the early 90s, several Capcom employees quit their jobs, and went to Mitchell Corp..
Then these employees developed Cannon Dancer!
The small quantity of this version made this beloved game an absolute legend in arcade history. It only released in arcades in Japan and the US and even in these countries the amount of available arcades was so low, that almost no one got their hands on the game.
Even now, you will still find people who are searching for one of these rare retro arcade machines; you will find fans who are still doing Fanart of the TEKI (Kirin and the Sub bosses) and you will find gamers who will pay thousands of Dollars to buy a circuit board for their Arcade at home. Released in 1996, Cannon Dancer is an Arcade classic and this is the reason, why Cannon Dancer belongs to the SLG family.
Technical Details
System

Nintendo Switch

Game Format

Cartridge

Game Type

Action
Platformer

for brand

Nintendo