DRAINUS Collector's Edition (NSW)
A cool Retro-Shooter for your Switch
Description
Strictly Limited Games exclusive. Limited to 1500 copies worldwide.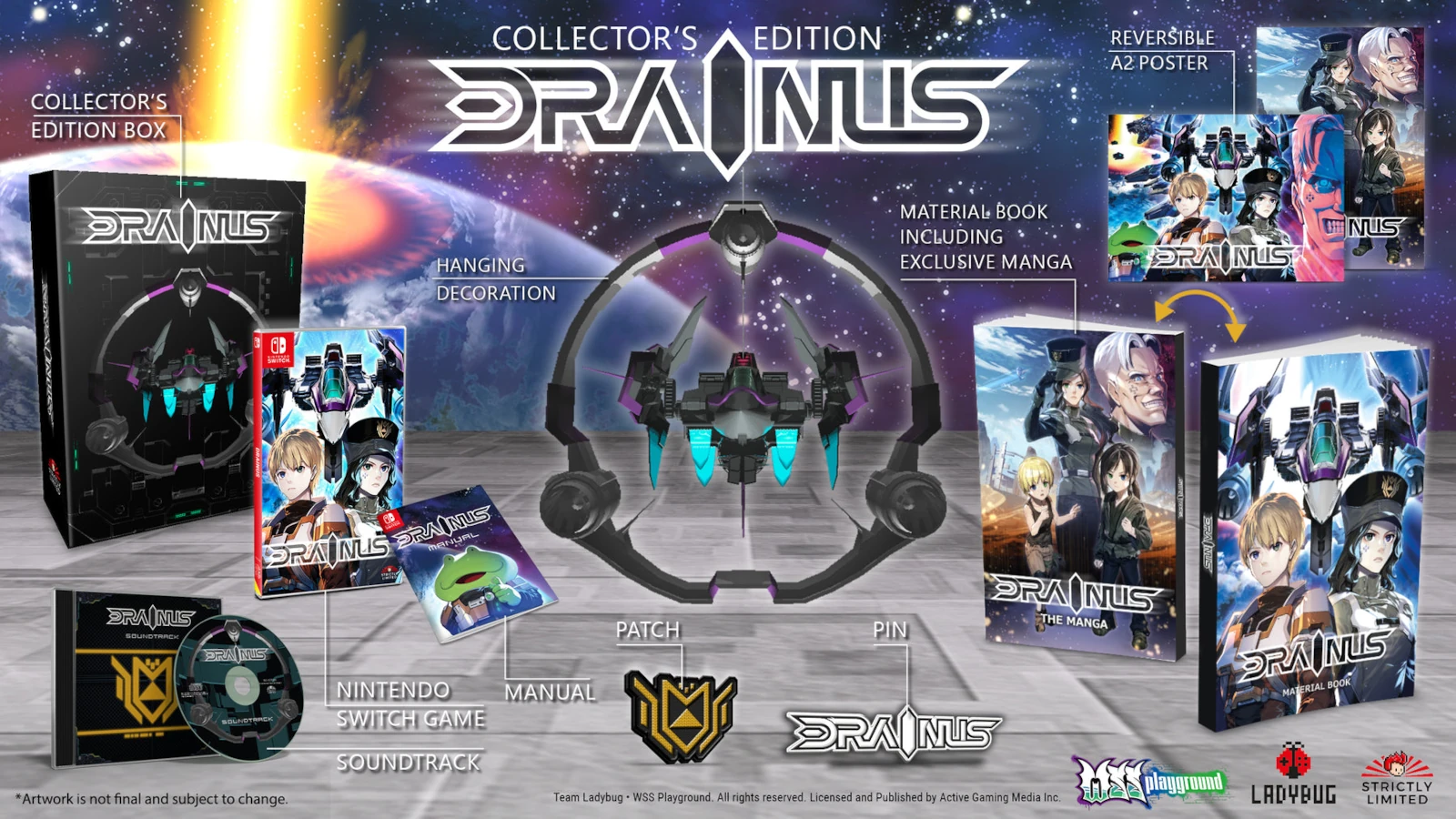 Collector's Edition Item list:
Game for Nintendo Switch
Collector's Edition Box with magnetic latch
Colorful Game Manual
Material Collection Book with an exclusive manga created by Zounose and exclusive developer interview in both English and Japanese, as well as behind-the-scenes material about the development
Details: Softcover, A5 size (14.8 x 21 cm/5.8 x 8.3 in)
Drainus Acrylic Hanging Decoration
Details: Diameter approx. 14.5 cm/5.7 in
DRAINUS Original Soundtrack, 1 CD
Textile Patch with the emblem of the Kharlarl Empire
Details: Diameter approx. 6 cm/2.36 in
DRAINUS Enamel Logo Pin
Details: approx. 5 x 3 cm/1.97 x 1.81 in
Double-sided Poster
Details: A2 size (42 x 59.4 cm/16.53 x 23.39 in) folded to A5 size (14.8 x 21 cm/5.8 x 8.3 in)

DRAINUS is a side-scrolling shooting game set in a futuristic world where the Kharlal Empire rules the galaxy. Irina, born a slave on the planet Halpax, heads for her home planet after her father falls seriously ill. She meets a time-traveling frog-form named Ghenie and is informed that an intergalactic war is about to begin. She hijacks Drainus, a ship that can absorb and reflect enemy attacks, and sets out with Ghenie to overthrow the Kharlal Empire and find her father.

DRAINUS is a unique twist on traditional shooters. Similar to "Ikaruga", the player can only absorb light energy attacks. These absorbed energy bullets accumulate in a meter and are released as a counterattack. Some of the energy bullets are also stored in energy tanks and used for shooting variants, secondary attacks, and shield upgrades, allowing for a wide variety of play styles.
The game also features stunning pixel-art with multi-layered stages and multi-level bosses. The soundtrack also pays homage to the greats while featuring its own unique electronic style to complete this package.

List of Features
"Ikaruga" and "Gradius" inspired classic shooter
Use reflectors to absorb enemy attacks.
Drainus is upgradeable and customizable to your gameplay style
Various enemies with beautiful pixel art to bring the ships to life.
Classic soundtrack.
A story interwoven to the action-packed gameplay with great characters that will keep you engaged until the very end.
Supported languages:
English, French, Italian, German, Spanish, Portuguese, Japanese, Simplified Chinese, Traditional Chinese, Korean

Why DRAINUS is joining the SLG catalog:
"DRAINUS" wears its inspirations on its sleeve, and that's not a bad thing. Rather, it makes the most of its elements and adds its own. Strategic and polished gameplay, beautiful graphics, and a soundtrack that supports the story and stages to the fullest, combine to make this one of the best shooters in recent years. Even more amazingly, this is Team Ladybug's first original IP, and the formula was established right out of the gate. We've been releasing SLGs of course, but also the latest and greatest retro shooters. We're really excited to add this gem to our library!
Technical Details
System

Nintendo Switch

Game Format

Cartridge

Game Type

Shooter

for brand

Nintendo